Hairdorable News: Big News to Peruse!
Feb 18th, 2018 / Series Three Information, HairDUDEables, Little Sisters, and More!
(Source: OhCluckToys on Instagram)
News has come out of New York Toy Fair regarding expansions and extensions of the Hairdorables series.
Series Three will be the Color, Crimp, Curl series. Thirty-nine dolls will be available across the twelve main characters. A new face mold with "kissy face" or pursed lips will be available on some dolls. A new accessory, a large hair styling device, will be included and all dolls will have a hair clip extension that interacts with it. The interior lines along with a Signature look will be Outdoor Fun (based on camping), Slumber Party (based on pajamas and sleepover wear), and Dance Party (based on a school dance). There will be two Rares and one Ultra Rare.
A later wave of Series One will be released that fully shows the doll in packaging, eliminating the hidden doll factor.
Pets - Series Two: Twenty-five pets across the series will be available; each pet will have a metallic finish. The interior lines will be Outdoor Fun (based on camping), and Slumber Party (based on pajamas and sleepover wear). Rarity is currently unknown.
HairDUDEables Series One: Boy characters will be released for the first time and marketed as the friends of girl characters. These will be released in a dual BFF pack, each with an exclusive main series character visible exclusive to the line (six of the twelve). There will be fifteen surprises in each pack, with the main character visible in a side packaging. Six variations of boys will be available across three characters - Greg, Logan, and Mac. Rarity is currently unknown.
Hairdorables Shortcuts - Series One (Little Sisters): Hairdorables will be releasing smaller "little sisters" of the main twelve characters. There will be twenty-four Little Sisters/Shortcuts to collect across twelve characters; each character will come with eight surprises, including clip-in ponytails and removable "skirts" that will double as hair scrunchies. Rarity is currently unknown.
A Jojo Siwa Limited Edition Hairdorable doll series will have surprise hair bows and at least three different looks; the packaging will display the doll visibly. Rarity of bows is currently unknown.
With all this new information, it's time to point out our rules on leaks, rumors, and hearsay. One of the major rules we have on the A*G Wiki, and that I would like to emphasize here, is that hearsay, unverified rumors, and leaks are strongly discouraged. Putting up incorrect information before proper release or information leads to having to retract data or even could get us in trouble with Just Play. But any official products shown at places like Toy Fair are verifiable.
Don't jump the gun. You can't take back mistakes and misinformation.
Nethilia, The Admin
Dec 28th, 2018 / Series One - Now With Pets!
Reliable information has surfaced on the Pets - Series One, which will coordinate to the appearance of the Series One characters. The series will have twenty-four versions of the twelve pets, each pet having two versions. They will be in semi-scale to the dolls. There will be one ultra rare version of Kali's pet, Zip and no rares; the main difference will be appearance of the pet. Eight surprises will be included - the checklist, two stickers, two unique accessories, a small "pet" brush, the pet, and a bio card. The pets will have rooted, brushable hair.
No retail price has been provided yet.
Nethilia, The Admin
Dec 26th, 2018 / Series Two Information: Color Change!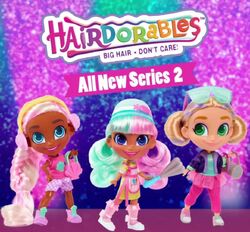 Information has surfaced, thanks to some well-reliable toy review vloggers, of the Series Two Hairdorables. Series Two line will have twenty-six dolls, with two characters--Harmony and Willow--having three versions and the others having two each; there will be one rare and one ultra-rare. Each doll will come with a color-change accessory that, when dipped in cold water, will change appearance.
The admin stands by the idea that all data that goes up on the Absolute Hairdorables Wiki should be accurate and avoid rumor, but as she knows and trusts that certain toy vloggers are super reliable, she doesn't mind sourcing them to put up news. Still, until a lot more data is available, I ask for your patience and respect as I make sure all data is accurate and true before it goes up on our articles.
Nethilia, The Admin
Sept 30, 2018 / Just Play Partners with DHX Media's WildBrain to Produce Online Video Content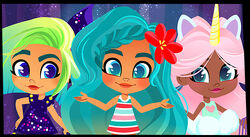 Just Play has appointed digital kids' network and studio WildBrain (an online subsidiary of DHX Media) to create new original content and manage the Hairdorables official YouTube channel.
Under the agreement, WildBrain will help build and grow the international audience for Hairdorables through the official YouTube channel. This includes animated vlogs to introduce each character, live-action toy play videos, and an animated series about the characters' lives and adventures.
Nethilia, The Admin
Sept 17, 2018 / The Founding of the Absolute Hairdorables Wiki!
The Absolute Hairdorables wiki was founded on this day in 2018! We hope to grow into an accurate, detailed wiki about anything and everything Hairdorables--especially helping you match all your little fiddly bits long after the package is open!
Nethilia, The Admin
---

Meet the Hairdorables!
Introduction: Rayne!
Birthday: April 5th
Favorite Color: All of 'em!
Claim to Fame: Roller Skating
Motto: No rain, no rainbows!

Hello new friends! I'm Rayne and I am so happy to meet you. I enjoy roller blading along the boardwalk and feeling the ocean breeze. I spend most of my time outside getting in touch with nature and meeting new friends – just like you! Also, if you haven't noticed, I'm a total sucker for anything rainbow-colored! Yass!
---
Read more about Rayne on her article page!

Are You Looking For Me?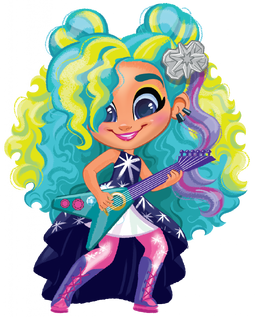 Harmonic Harmony is a Rare Find, which means she's found in about one of every forty packages!
---
Read more about Harmonic Harmony on the article page!

Catch Me If You Can!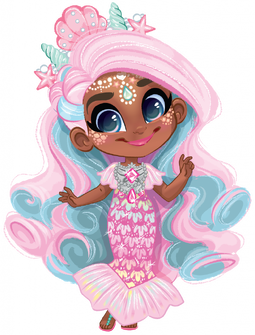 Sea Willow is an Ultra Rare Find, which means she's found in about one of every four hundred packages!
---
Read more about Sea Willow on the article page!

Table of Contents
Main Characters:
Fandom Terms, Collecting, and Helpful Articles
---
See all pages

Hairdorables In The News: RSS
Loading RSS data...
Please note that the staff does not collect or personally locate these news articles; they are pulled in by an automated Google RSS feed. The Absolute Hairdorables Wiki and its admins have no official opinion on any article seen here.
---
REFRESH