Hairdorable News: Big News to Peruse!
September 25, 2021 / Series Six
Series Six has been released for some time. Admin will seek more information at a later time and update pages.
August 2, 2020 / Series Five and Longest Hair Ever
Series Five - Hair Art and Longest Hair Ever! are coming to stores and online now!
June 16, 2020 / Series Availability
It's been several months since I've done a proper update about Hairdorables lines available. You can blame the pandemic. That being said, the following have now been widely released:
Previews were also seen at Toy Fair 2020, which seems like a whole prior era to nowadays. This includes Hairmazing: Prom Perfect; Series Five: Hair Art Series; Hairdorables Longest Hair Ever! Dolls; and a stand-alone blind box series of HairDUDEables.
Stay safe, stay home, wear your masks, wash your hands, maintain social distancing, and just enjoy dolls.
Nethilia, The Admin
Feb 11, 2020 / Series Four Available
Series Four is now available in stores and online.
Nethilia, The Admin
Jan 30, 2020 / Series Four Coming Soon
(Source: Hairdorables on Instagram)
A new year, and new products coming out! The Hairmazing line has already reached stores and is widely available.
Also next and soon will be Series Four - Scented. There are leaks coming out and some early reviews, but no full and proper details--so until they're out, no jumping the gun to be first.
Nethilia, The Admin
Nov 25, 2019 / Hairmazing Information
(Source: Hairdorables on Instagram)
News has come out from Hairdorables regarding a spin-off series of the Hairdorables, the Hairmazing line, which reinterprets six characters in a taller, fashion-doll style. Little is know about this line at present beyond promotional images.
Nethilia, The Admin
Nov 6th, 2019 / Rumors, Hearsay, and Leaked Images - Don't Do It!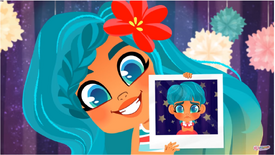 It appears that information is starting to leak out about future potential products for the Hairdorables, including images of what are likely new, upcoming dolls on Instagram. Getting hype is fine! Get hype all you want! I get hype!
But don't get hype here to the point you break the rules on Rumors, Leaks, and Hearsay. We have a policy as follows:
The Absolute Hairdorables Wiki has made it our policy to not allow any information on any topic from any non-legitimate sources. The only information we accept are from sources that can be verified.
Verified sources include sources such as reliable toy bloggers who get previews of upcoming toys, official announcements by Just Play, reliable retailers, and press releases. They do not include linking to some small IG account who is posting blurry, unreleased stock image searches. Even if they appear official, stock images found through searches across the internet cannot and will not be posted or discussed here. Many are released through leaks of items that previewers are not supposed to share.
If Just Play has not officially released images yet, they are unverified. Until Just Play themselves release the images, they should not be linked to, mentioned or uploaded.
I have, as admin, deleted any and all mentions of and images of any of the rumored upcoming items and summarily blocked the offenders. If a user posts unverified leaks or bad--or any!--pictures of unreleased items, they will be blocked from editing for at least a month. That should give us enough time to get real, verified news and you to learn your lesson.
Update, 11/12/19: This includes avatars. You will be blocked for avatars that show leaks until the avatar is removed.
Nethilia, The Admin
---
Older News
Meet the Hairdorables!
Introducing: Harmony!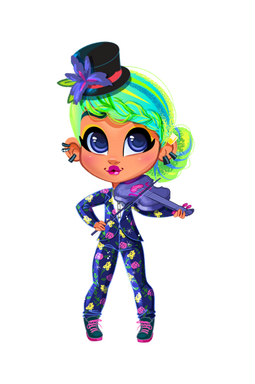 Birthday: February 17
Signature Dance Move: The Electric Slide
Claim to Fame: Makin' Music
Motto: Sing it, girl!

Hello people! My name is Harmony (try to remember that name because I plan to make it BIG!). I absolutely adore all things musical – singing, song writing, and playing just about every instrument under the sun. My favorite thing to do in my free time is hang out next door with my BFF Noah!
---
Read more about Harmony on her article page!
Are You Looking For Me?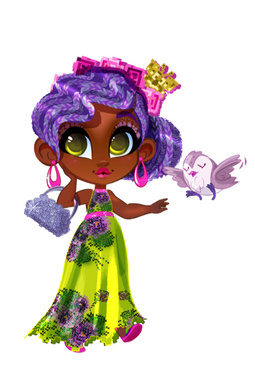 Kitchy Kali is a Rare Find, which means she's found in about one of every forty packages!
---
Read more about Kitschy Kali on the article page!
Table of Contents
Main Characters:
Fandom Terms, Collecting, and Helpful Articles
---
See all pages