Hairdorable News: Big News to Peruse!
Nov 25, 2019 / Hairmazing Information,
(Source: Hairdorables on Instagram)
News has come out from Hairdorables regarding a spin-off series of the Hairdorables, the Hairmazing line, which reinterprets six characters in a taller, fashion-doll style. Little is know about this line at present beyond promotional images.
Nethilia, The Admin
Nov 6th, 2019 / Rumors, Hearsay, and Leaked Images - Don't Do It!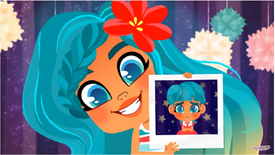 It appears that information is starting to leak out about future potential products for the Hairdorables, including images of what are likely new, upcoming dolls on Instagram. Getting hype is fine! Get hype all you want! I get hype!
But don't get hype here to the point you break the rules on Rumors, Leaks, and Hearsay. We have a policy as follows:
The Absolute Hairdorables Wiki has made it our policy to not allow any information on any topic from any non-legitimate sources. The only information we accept are from sources that can be verified.
Verified sources include sources such as reliable toy bloggers who get previews of upcoming toys, official announcements by Just Play, reliable retailers, and press releases. They do not include linking to some small IG account who is posting blurry, unreleased stock image searches. Even if they appear official, stock images found through searches across the internet cannot and will not be posted or discussed here. Many are released through leaks of items that previewers are not supposed to share.
If Just Play has not officially released images yet, they are unverified. Until Just Play themselves release the images, they should not be linked to, mentioned or uploaded.
I have, as admin, deleted any and all mentions of and images of any of the rumored upcoming items and summarily blocked the offenders. If a user posts unverified leaks or bad--or any!--pictures of unreleased items, they will be blocked from editing for at least a month. That should give us enough time to get real, verified news and you to learn your lesson.
Update, 11/12/19: This includes avatars. You will be blocked for avatars that show leaks until the avatar is removed.
Nethilia, The Admin
Sept 21st, 2019 / Pets, Series 2
The Pets - Series Two are starting to show up in stores.
Nethilia, The Admin
August 1st, 2019 / 'Dudes and Sisters!
The HairDUDEables - Series One and Shortcuts - Series One are now available in stores.
Nethilia, The Admin
June 20, 2019 / SDCC Comic Con Exclusive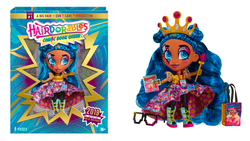 An exclusive Hairdorable is being released: The Comic Book Queen Deluxe Doll Set. The doll will be exclusive to San Diego Comic Con and have a limited amount available for a cost of $39.99.
Nethilia, The Admin
May 31, 2019 / Evolution USA Appointed to Develop Licensing Program for Hairdorables Brand; Hairdorables Toy of the Year Finalist
Evolution USA, a licensing and brand management firm based in Calabasas, California, has announced they will be working with Just Play to create a full scale licensing program for the Hairdorables Brand. This will debut at Evolution's booth at Licensing Expo in Las Vegas from June 4 to 6 where they will seek creating licenses for items such as apparel, accessories, stationery and back to school, social expression and party goods, arts and crafts, and health and beauty.
Or for those that don't get corporate speak, we're getting stuff.
Furthermore, Hairdorables was the #1 fastest growing small doll property in 2018 and selected in 2019 as a Toy Of The Year Finalist for Doll of the Year. Good for them!
Nethilia, The Admin, will totally write in notebooks.
May 23, 2019 / Series Three In Stores
Series Three is showing up in stores now, as well as Jojo Siwa dolls. The Jojo dolls are visible in packaging and come with ten surprises; the Series Three come with the now-standard eleven. No other announced Hairdorables series have been seen.
The Administration would like to take this time to remind all users that we here at the A-H Wiki do not care if you are new to editing or excited about getting an article/image up first. If it is poorly written or improperly done, it will be purged and so will you. You can and will be blocked for violations for a minimum of a week. Read our Policies, because you will be subjected to them from moment one.
Nethilia, The Admin
Apr 30th, 2009 / Violations of Policy Will Not Be Tolerated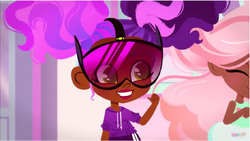 The Absolute Hairdorables Wiki has policies about article creation and image uploading. These policies include that uploading unofficial images of unreleased products and creating poorly formatted articles results in bans. Your Admin's run another toy-themed Wiki for over a decade now. She knows what a problem it can be to have to go rewrite an entire article when someone writes, say, "OOTD Noah is one doll of the series 3 she is Signature Look and her hair extension is Crimp" as an article. That's not an article, that's a grammatically poor sentence.
Furthermore, using shots--any shots--from a toy reviewer's personal accounts is a copyright violation. They took those shots. We didn't. When Toy Fair pictures are swiped from other toy bloggers, this is rude. Reliable toy bloggers are a great source of information. But they take a lot of time to take shots. We shouldn't piggyback off their work.
Bans will be applied immediately to anyone who uploads pictures that aren't theirs and who write bad articles. Read the following:
Don't jump the gun. You don't get internet points for putting up mess first.
Nethilia, The Admin
Feb 18th, 2019 / Series Three Information, HairDUDEables, Little Sisters, and More!
(Source: OhCluckToys on Instagram)
News has come out of New York Toy Fair regarding expansions and extensions of the Hairdorables series.
Series Three will be the Color, Crimp, Curl series. Thirty-nine dolls will be available across the twelve main characters. A new face mold with "kissy face" or pursed lips will be available on some dolls. A new accessory, a large hair styling device, will be included and all dolls will have a hair clip extension that interacts with it. The interior lines along with a Signature look will be Outdoor Fun (based on camping), Slumber Party (based on pajamas and sleepover wear), and Dance Party (based on a school dance). There will be two Rares and one Ultra Rare.
A later wave of Series One will be released that fully shows the doll in packaging, eliminating the hidden doll factor.
Pets - Series Two: Twenty-five pets across the series will be available; each pet will have a metallic finish. The interior lines will be Outdoor Fun (based on camping), and Slumber Party (based on pajamas and sleepover wear). Rarity is currently unknown.
HairDUDEables Series One: Boy characters will be released for the first time and marketed as the friends of girl characters. These will be released in a dual BFF pack, each with an exclusive main series character visible exclusive to the line (six of the twelve). There will be fifteen surprises in each pack, with the main character visible in a side packaging. Six variations of boys will be available across three characters - Greg, Logan, and Mac. Rarity is currently unknown.
Hairdorables Shortcuts - Series One (Little Sisters): Hairdorables will be releasing smaller "little sisters" of the main twelve characters. There will be twenty-four Little Sisters/Shortcuts to collect across twelve characters; each character will come with eight surprises, including clip-in ponytails and removable "skirts" that will double as hair scrunchies. Rarity is currently unknown.
A Jojo Siwa Limited Edition Hairdorable doll series will have surprise hair bows and at least three different looks; the packaging will display the doll visibly. Rarity and variety of bows is currently unknown.
With all this new information, it's time to point out our rules on leaks, rumors, and hearsay. One of the major rules we have on the A*G Wiki, and that I would like to emphasize here, is that hearsay, unverified rumors, and leaks are strongly discouraged. Putting up incorrect information before proper release or information leads to having to retract data or even could get us in trouble with Just Play. But any official products shown at places like Toy Fair are verifiable.
Don't jump the gun. You can't take back mistakes and misinformation.
Nethilia, The Admin
Dec 28th, 2018 / Series One - Now With Pets!
Reliable information has surfaced on the Pets - Series One, which will coordinate to the appearance of the Series One characters. The series will have twenty-four versions of the twelve pets, each pet having two versions. They will be in semi-scale to the dolls. There will be one ultra rare version of Kali's pet, Zip and no rares; the main difference will be appearance of the pet. Eight surprises will be included - the checklist, two stickers, two unique accessories, a small "pet" brush, the pet, and a bio card. The pets will have rooted, brushable hair.
No retail price has been provided yet.
Nethilia, The Admin
Dec 26th, 2018 / Series Two Information: Color Change!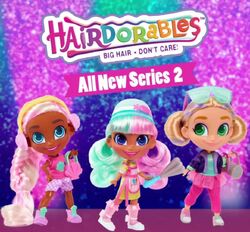 Information has surfaced, thanks to some well-reliable toy review vloggers, of the Series Two Hairdorables. Series Two line will have twenty-six dolls, with two characters--Harmony and Willow--having three versions and the others having two each; there will be one rare and one ultra-rare. Each doll will come with a color-change accessory that, when dipped in cold water, will change appearance.
The admin stands by the idea that all data that goes up on the Absolute Hairdorables Wiki should be accurate and avoid rumor, but as she knows and trusts that certain toy vloggers are super reliable, she doesn't mind sourcing them to put up news. Still, until a lot more data is available, I ask for your patience and respect as I make sure all data is accurate and true before it goes up on our articles.
Nethilia, The Admin
Sept 30, 2018 / Just Play Partners with DHX Media's WildBrain to Produce Online Video Content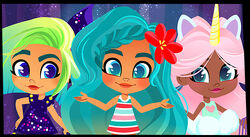 Just Play has appointed digital kids' network and studio WildBrain (an online subsidiary of DHX Media) to create new original content and manage the Hairdorables official YouTube channel.
Under the agreement, WildBrain will help build and grow the international audience for Hairdorables through the official YouTube channel. This includes animated vlogs to introduce each character, live-action toy play videos, and an animated series about the characters' lives and adventures.
Nethilia, The Admin
Sept 17, 2018 / The Founding of the Absolute Hairdorables Wiki!
The Absolute Hairdorables wiki was founded on this day in 2018! We hope to grow into an accurate, detailed wiki about anything and everything Hairdorables--especially helping you match all your little fiddly bits long after the package is open!
Nethilia, The Admin
---

Meet the Hairdorables!
Introducing: Willow!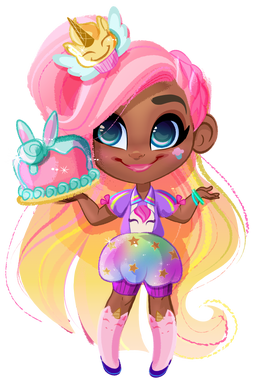 Birthday: Nov 18th
Favorite Flower: Dahlia (Multicolored)
Claim to Fame: Fashion Designer
Motto: Everything's better with sparkle!

Hi everyone, I'm Willow! I have a passion for fashion and I love to share my Outfit of the Day! No matter what style you're into, your best accessory is confidence, own it! My most fave thing to do is to help my friends express themselves and see them shine!
---
Read more about Willow on her article page!

Are You Looking For Me?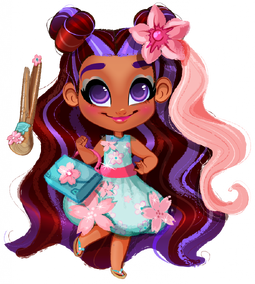 Sensational Skylar is a Rare Find, which means she's found in about one of every forty packages!
---
Read more about Sensational Skylar on the article page!

Catch Me If You Can!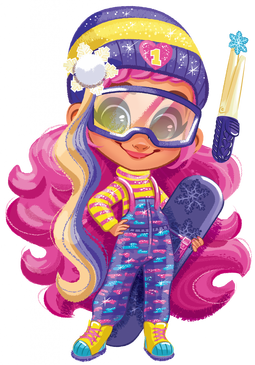 Gnarly Brit is an Ultra Rare Find, which means she's found in about one of every four hundred packages!
---
Read more about Gnarly Brit on the article page!

Table of Contents
Main Characters:
Fandom Terms, Collecting, and Helpful Articles
---
See all pages

Hairdorables In The News: RSS
Please note that the staff does not collect or personally locate these news articles; they are pulled in by an automated Google RSS feed. The Absolute Hairdorables Wiki and its admins have no official opinion on any article seen here.
Loading RSS data...
---
Community content is available under
CC-BY-SA
unless otherwise noted.