Jurassic World: Dominion Dominates Fandom Wikis - The Loop
Play Sound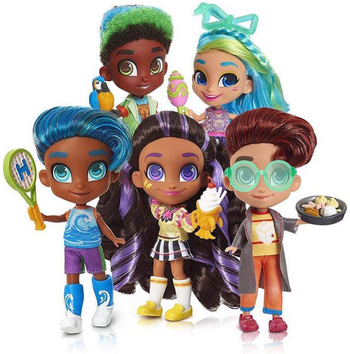 HairDUDEables - Series Two is the second release of the HairDUDEables characters.
The series was released February 2020 at a suggested retail cost of $24.99.
Overview
The series offers the three initial "dude" characters in new looks, as well as a new character, Asher. Four versions of the characters are available with a single look for each.
Four more of the twelve main Hairdorables characters are included with no repeats from the earlier release, and again released in looks exclusive to the series; they are visible in the packaging, while the HairDUDEables are hidden. Each girl comes with her "BFF," or a specific 'Dude Doll:
Tennis Time Neila and Servin' Logan
Jungle Jammin' Harmony and Safari Searchin' Asher
Kat's Got Your Bag and Colorful Greg
Sweetie Skylar and Takeout Max
None of the characters are Rare or Ultra Rare.
Box Packaging and Reveals
The packaging is the same as the prior series, with colors more similar to the Series Three coloring of blue, with newly styled packaging. The exclusive Hairdorables character will be visible to the side, packaged the same as Series One.
The packaging on the Dudes side is very much similar to Series Three with a diagonal pull open. The checklist is tucked with the background. A fourth packaging for the boy dolls, M4, is to accommodate the curled upstyle of Servin' Logan. Signature cards only show the character and name in script. The two stands are translucent but no longer match each other in color.
There are thirteen--actually fourteen--surprises in each package.
Surprises:
Dressed, visible Hairdorables character in a line-exclusive look, already wearing her shoes.
Two character-specific stickers.
Character-look specific Shoes for HairDUDEable.
Two character-look specific Accessories for both characters, for a total of four accessories.
Two Signature Cards for each character. This will be standard across each character, behind the Dude doll for his signature card and in a separate package for the Hairdorables doll.
Two matching translucent stands.
Package Backdrops
The following are randomized across regular finds:
HairDUDEables - Series Two Gallery
HairDUDEables - Series Two Releases
The Girls
Each of the Four main Hairdorables character comes in a single, exclusive to the line look.
The Dudes
Trivia
None of the girls in the line have the Heart Hands style of arms.
Each of the girls have some style of unique face paint/decoration on the face.
References
↑

This is standard across all the boxes.

↑ Unique body differences are on the main Basic Doll Overview page.