Jurassic World: Dominion Dominates Fandom Wikis - The Loop
Play Sound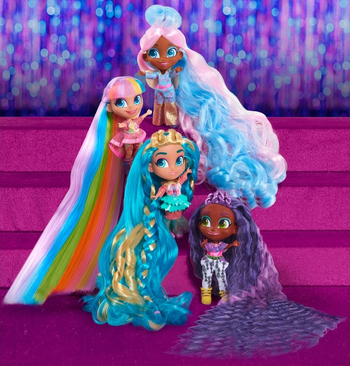 Longest Hair Ever! is the first release of the variation of the Hairdorables characters.
The series was released in August 2020 at a suggested retail cost of $16.99.
Overview
The line emphasizes the characters having the "longest hair ever" with ten inches of hair length to style freely. The line includes four of the main Hairdorables Characters: Noah, Kali, Willow, and Rayne. Each character is the same size as standard dolls, but with exceptionally long hair relative to the size of the doll, at ten inches from the crown.
Box Packaging and Reveals
The package is a 13" tall container similar to hair spray bottles; the lid is glittery silver plastic, with the top indented to place the doll stand. The wrap around main label from the front shows the included character peeking over the word "longest" on the with the words Longest Hair Ever! entangled in her length of hair. The back shows the four dolls in the line, as well as the eight surprises.
The lid/stand base is taped on and has the text "Hairdorables - Big Hair Don't Care" on the outer rim. Once the lid is removed, a grey key-chain hook clasp (to clip to the brush) is attached to the top of the clear inner packaging. Pulling up gently rotates the center spiral lined tube in a twist, showing the character on outer paper label in a elaborate themed scene. (The inner plastic top has diagonal lines to guide the center tubing.) The paper scene is then peeled away in three sections to reveal the surprise bags and the dressed doll with the full length of hair. The center is then separated to release the doll (the top hook must be removed). Surprise bags are a plain purple with overall logo and question mark background.
Stands are designed to snap into the lid, to allow the character to stand with the full length of hair loose.
Eight surprises are included:
Character-look specific Barrette.
Character-look specific Head piece.
Character-look specific Shoes.
One additional character-look specific accessory.
Character Name brush. These are unique per doll, in that each character will have her name on her brushes, similar to the Series Four brushes.
Clip on for brush (attached to top of inner container).[1]
Stand.
Dressed doll.
Instructions are also included to show how to attach the stand to the lid and the clip to the character brush.
Longest Hair Ever! Gallery
Longest Hair Ever! Releases
Longest Hair Ever Noah

Longest Hair Ever Kali

Longest Hair Ever Willow

Longest Hair Ever Rayne
Trivia
References
↑

This is standard across all the boxes.