Jurassic World: Dominion Dominates Fandom Wikis - The Loop
Play Sound
Sept 2018
Sept 17, 2018 / The Founding of the Absolute Hairdorables Wiki!
The Absolute Hairdorables wiki was founded on this day in 2018! We hope to grow into an accurate, detailed wiki about anything and everything Hairdorables--especially helping you match all your little fiddly bits long after the package is open!
Nethilia, The Admin
Sept 30, 2018 / Just Play Partners with DHX Media's WildBrain to Produce Online Video Content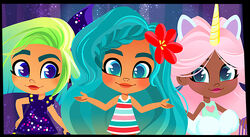 Just Play has appointed digital kids' network and studio WildBrain (an online subsidiary of DHX Media) to create new original content and manage the Hairdorables official YouTube channel.
Under the agreement, WildBrain will help build and grow the international audience for Hairdorables through the official YouTube channel. This includes animated vlogs to introduce each character, live-action toy play videos, and an animated series about the characters' lives and adventures.
Nethilia, The Admin
December 2018
Dec 26th, 2018 / Series Two Information: Color Change!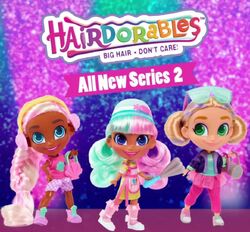 Information has surfaced, thanks to some well-reliable toy review vloggers, of the Series Two Hairdorables. Series Two line will have twenty-six dolls, with two characters--Harmony and Willow--having three versions and the others having two each; there will be one rare and one ultra-rare. Each doll will come with a color-change accessory that, when dipped in cold water, will change appearance.
The admin stands by the idea that all data that goes up on the Absolute Hairdorables Wiki should be accurate and avoid rumor, but as she knows and trusts that certain toy vloggers are super reliable, she doesn't mind sourcing them to put up news. Still, until a lot more data is available, I ask for your patience and respect as I make sure all data is accurate and true before it goes up on our articles.
Nethilia, The Admin
Dec 28th, 2018 / Series One - Now With Pets!
Reliable information has surfaced on the Pets - Series One, which will coordinate to the appearance of the Series One characters. The series will have twenty-four versions of the twelve pets, each pet having two versions. They will be in semi-scale to the dolls. There will be one ultra rare version of Kali's pet, Zip and no rares; the main difference will be appearance of the pet. Eight surprises will be included - the checklist, two stickers, two unique accessories, a small "pet" brush, the pet, and a bio card. The pets will have rooted, brushable hair.
No retail price has been provided yet.
Nethilia, The Admin