Jurassic World: Dominion Dominates Fandom Wikis - The Loop
Play Sound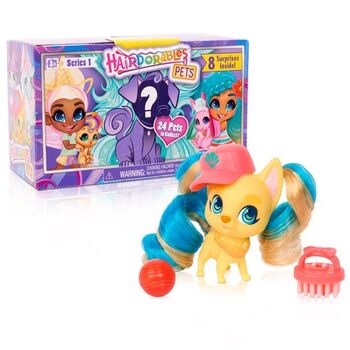 Pets - Series One is the first release of the Hairdorables' characters pets.
The series was released initially in January 2019 and retails for $6.99.
Overview
The series introduces the main characters' pets. The pets come in two variants on a standard look for a total of twenty-four versions. Each pet's variations include one Signature Look and one non-signature look with color variances, both with the same name.
Zip has an ultra rare version that is marked with the standard Rare diamond (

) on the checklist; there are no rares, and all the others are of standard distribution.
Pet Anatomy
Pets have plastic bodies and heads, uniquely shaped to the pet's style. Hair is rooted to the head and for the tails[1] and for some pets, gathered into ponytails or bunches. The only point of articulation is a pivot at the neck. Pets are sized to be smaller than the dolls, regardless of real-world relative height, and come to about waist high to the doll.
Box Packaging and Reveals
The box is roughly half the size of a main series Hairdorables box. The whole package is shrink wrapped around tightly. Like both Series One and Series Two, the front tabs peel down the front to open the package, showing the randomized background and sealed surprises. The surprises are numbered 1 and 2 behind perforated cardboard flaps, with the pet behind the left side under a sealed flap and a "warning" to open last. Each Pet comes with two accessories, a unique-to-character pet brush, and a Adoption Card. The Adoption Card lists their Hairdorables "BFF," Favorite Thing, and Adoption Date; the Adoption Date is left blank, allowing purchasers to write in a date.
The surprises and pet are in purple plastic bags with indented kerfs to indicate where to open the bags. The packaged reveal surprises in this order if opened as directed: Tag Stickers/Accessory, Brush/Accessory/Photo sticker, Pet with Adoption Card.
Surprises:
Sticker Sheet.[2]
Randomized Photo Sticker.
Two pet-look specific Accessories.
Pet.
Adoption Card. The Adoption Card is standard across each pet's versions.
Package Backdrops
The following are randomized across regular finds:
Pet Show
Pet Salon
Pet Bedroom
Pets - Series One Gallery
Pets - Series One Releases
References