Jurassic World: Dominion Dominates Fandom Wikis - The Loop
Play Sound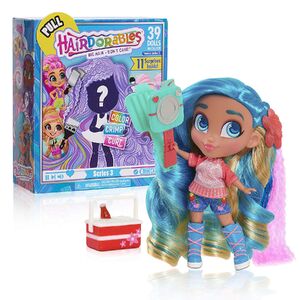 Series Three: Color, Crimp, Curl is the third release of the Hairdorables main characters.
The series had a June 2019 Release, at a retail cost of approximately US $12.99.
Overview
The series offer all-new looks and hairstyles for the twelve main characters, with thirty-nine looks across the twelve characters. A new face design, the Kissy/Pouty face, was introduced, with pursed lips; several dolls also include freckles.
Each doll's variations include a Signature Look that is, for the first time, separated on the checklist from the other lines; every character receives one. Three internal sub-lines have nine looks across selected characters; not all dolls receive every look, other than the Signature looks (as that would calculate to forty-eight dolls). Nine characters are selected for each interior line. Internal sub-series to the line are:
Dance Party: Characters are dressed for a school dance in semi-fancy wear; they also have enhanced makeup and eyelashes.
Outdoor Fun: Characters are dressed for outdoors activities such as camping, travel, festivals, and sports. Many dolls have freckles.
Slumber Party: Characters are dressed in sleepover wear such as robes and pajamas. Many styles invoke animal motifs.
Noah, as the main character of the line, is in every interior line, as are Sallee and Willow.
Each doll includes a unique hairstyling implement--an oversized curling iron, crimper, or hair-coloring brush--and a clip-in hair clip extension. With the curling iron or crimper, the extension has "memory" fibers that will hold shape when styled with the tool and eventually relaxes. Hair-coloring brushes, with water, change the color of the extension via thermochromatic means; when icy-cold water is applied or subjected to cold temperatures, the fibers will change colors. The extensions will revert to standard colors with warm water or once the item warms back up to room temperature. The Color/Crimp/Curl actions are only on the hair extensions. The distribution means every doll comes in at least one variant of Color, Crimp, or Curl.
Rares for Noah and Skylar and one Ultra Rare version for Brit are included. Signature Cards now include Bedtime Routine, Favorite Flower, and Signature Dance Move.
Box Packaging and Reveals
The packaging is the same size as standard series packaging and dominantly blue. The packaging has changed to open on a diagonal pull before being pulled open. On the left is the flat backdrop that drops down and contains pop-out elements and on the right are the accessory packages and doll, now all behind perforated cardboard flaps. Unlike Series Two which still showed Sk8r Noah on the doll seal, this one now shows OOTD Noah. Bins are replaced with overall print plastic bags, in the style of Pets. No combs are included. The stands are now translucent and specific to sublines by color:
Pink: Signature Look
Purple: Slumber Party
Magenta: Dance Party
Blue: Outdoor Fun
The doll and signature card are together in the sealed rectangular doll package, with the card behind the doll. The packaging has been slightly modified at the bottom to allow purchasers to pull the package from the inner box.
Eleven surprises are in each package. The stand initially came tucked to the bottom back of the doll's package; later, it was packaged disassembled with base loose in one section and the stand either loose with it or in one of the surprise packs. The packaged reveal surprises in various orders, but come as packaged: Shoes/Series Sticker, Accessory/Sticker, Hair Extension Clip/Sticker, Hair Tool, Dressed Doll with Signature Card and Stand.
Surprises:
Series Sticker Sheet. [1]
Two randomized series photo stickers.
Character-look specific Shoes.
One additional character-look specific accessory.
Character look specific hair styling tool.[2]
Specific Character/Styling Implement Hair Extension.[2]
Dressed Doll.
Signature Card. This is standard across each character and behind the doll.
Stand. Color is set by subline.
Package Backdrops
Backdrops have been changed to have pop-up elements. Backgrounds are no longer randomized; they align with the theme of the character subline, including Rares.
Signature Looks: Hair Salon
Dance Party: School Dance
Outdoor Fun: Outside Campsite
Slumber Party: Sleepover Bedroom
Brit as an Ultra Rare has a unique metallic ski resort background.
Series Three Gallery
Series Three Releases
Italicized with ♦ are Rare Versions. Bolded with ★ are Ultra Rare Versions.
# are Crimp Styles. @ are Curl Styles. & are Color Change.
All Characters have a new signature look; they are listed together with ♥.
Slumber Party
Dance Party
Outdoor Fun
Trivia
Because of having extra dolls, Noah comes in two Curl Variants while Willow and Sallee come in Two Color Variants. No doll has more than one crimp variant.
There are fourteen color variants, twelve crimp variants, and thirteen curl variants across the series. The Signature has the most balance with four of each evenly distributed. Slumber party has four Color and two Curl (three Crimp). Dance Party has five Color and only one Crimp (with three Curl). Outdoor Fun has only one Color and four each of Crimp and Curl.
There are no Rare or Ultra Rare Crimp styles.
See Also
References